30 septembre 2008
Hello...
Il y a quelque temps j'ai été invité au festival de BD engagé de Cholet.
Michel Humbert vient de m'envoyer cette petite vidéo sur Dailymotion d'une partie de mon intervention...
Merci Michel :)
Je vous laisse libre juge...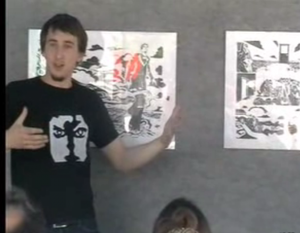 Some times ago I was invited at the Engaged Comics Festival of Cholet (France).
Mchel Humbert has just sent me this little video on Dailymotion. In there I explained (in french) my vision on comics during a lecturer..
Thanks Michel :)
I let you have your own opinion on this...
http://www.dailymotion.com/relevance/search/micky215/video/x6x17i_pier-gajewski-au-festival-de-la-bd_creation
Commentaires sur Festival De Cholet